Sarah Riggs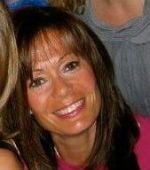 Sarah Riggs - GS / GA
Netball History:
Sarah played netball at school (besides tennis and rounders).
So, why Netball?
Sarah "just loves netball!"
Titbits:
Sarah is the founder of Olveston Netball Club. It was her drive that first formed the club, by getting just a few local girls together to have some fun. The timing was perfect to link in to the newly introduced "Back to Netball" project. Sarah's favourite position is GA and she just loves playing it. Some people say GA or GS is too much pressure but to be honest she doesn't see it that way. Sarah was always told to practice loads, so that's what she does – that way she knows she does her best for both her team and herself. She just goes into a "zone" when playing, and nothing else matters apart from winning and pushing herself every time. She loves being in a league team and says "after a league match, we have such highs and lows, it's just unbelievable". Sarah was just 19 when she met her husband, was married at 23, and now has four wonderful boys. Sport sort of took a back seat until she took up skiing in her 30's, and now enjoys regular skiing holidays with her family. After an ACL injury and operation however, she did have to take a year out to recover. Sarah overcame her fear of repeating the injury, by working hard in the gym, four times a week. Sarah has recently qualified as a beginner umpire (along with three other members of the club). Netball is a huge part of Sarah's life . . . she loves the challenging training sessions, and to see the club grow. Finally she adds "best of all, it introduced a bunch of fantastic friends into my life" and says "thank you!" to all the girls.