Ria Blakemore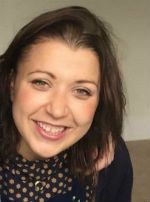 GK / GD - Ria Blakemore
Netball History:
Ria played netball prior to her moving away to uni.
So Why Netball?
Being a team sport Ria chose netball to meet likeminded people who had a passion for the game and for fitness. She says "I didn't expect to join such a great bunch of people who accommodated me from day one".
Titbits:
She loves running … has done a marathon and has lots of shorter races lined up. Ria gets a rush from exercise and says it benefits her before or after a long day. She played netball and county cricket growing up but enjoyed netball most which is why she decided to join Olveston Netball Club, initially as a B2N. It was clear when Ria joined that she was a budding league player and we are delighted to include her in league matches from the 2016/17 season. Always smiling and full of energy, she is proving to be a fabulous addition to the club!