Teena Farrell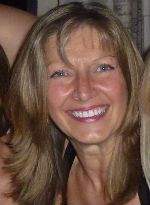 Teena Farrell - C / WA / WD
Netball History:

Teena started playing netball at school. She was reintroduced to it in her twenties whilst working for Hewlett Packard in Bristol, where she played in the UWE league and various tournaments. After moving to America she again lost touch with the game, but eventually started playing for Hewlett Packard in Berkshire when she returned to the UK. More moves and another long break, with her next encounter being with the girls at ONC.
So, Why Netball?
Just for the sheer joy of the game. Netball gets the adrenaline going and just adds another dimension to your day. It's a great team sport to be involved in for life.
Titbits:
Teena has always loved playing competitive sports. Although she would never profess to be an expert at any, she has a determination and passion that carries her through to do the best for herself and her team. She says about winning and losing "winning isn't everything, but wanting to win is!". She has a very positive outlook saying "even if you lose a match, there is always something positive you can take from it". Netball is not only about fitness and fun, but about building relationships, confidence and respect between yourself and other club/team members. There's a certain amount of feisty banter that goes on too, and keeping that banter at the right level to drive each other on, whilst continuing to be encouraging and supportive is quite an art. You can take a lot of what is learnt within the sport, and apply it to life in general. Teena says " It's been a great experience and a real pleasure being part of Olveston Netball Club since its foundation: it has a brilliant mix of diverse and inspirational people!".