Nicky Tregenza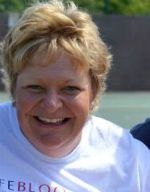 Nicky Tregenza - GS / GA
Netball History:
Nicky started playing netball at school when she was seven, and played at club level for 31 years. She first joined Bristol Utd aged around 15. Lucky to have attended a secondary school where the PE teacher was devoted to netball, she played after school five times a week. Nicky represented the South West U14 and U16 at National Schools competitions, and played U21 county before going to Manchester Poly where she set up a team. Later she played for various clubs around the country, wherever her job took her. She has fond memories of playing in leagues in Birmingham, Bromsgrove, Chichester and Swindon. Eventually, Nicky moved back to Bristol in 1999 and played for Crossbow, but soon after became pregnant. Once the bed time routines were sorted Nicky joined a local Back to Netball club just for a run around but soon needed more, and Olveston came to the rescue!
So, why Netball?
Netball is everything. Team, competition, social, fitness (for most!), and a fantastic way to demonstrate to children that sport can be fun and a hobby for life. You also don't need to be a specific shape or height – you just have to jump higher when you're only 5'2"!
Titbits:
Nicky spent years developing a demanding career. Working unsociable hours she would so often hear young people moan that you couldn't keep a hobby if working shifts and weekends etc. She also ruptured her Achilles tendon playing netball and was told that she probably wouldn't get back to competitive sports. The reality is that with determination and an organised filofax everything is possible. You just have to let people around you know that you are dedicated and the let the benefits speak for themselves. Nicky joined ONC in 2012 so is one of our newer members. In saying that, she has been a fantastic addition to the Olveston squad. Nicky is an inspirational player, and comes with a wealth of experience that has undoubtedly helped other players improve their game.