Liz Chapman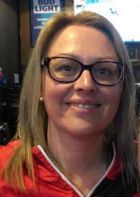 GS / GA - Liz Chapman
Netball History:
Liz played at primary school, for Redmaid's and county. She's also played with Gardiners, for Clevedon Royals briefly, and the Independents where she played prem, then seconds. Liz joined ONC in 2017 and has never looked back.
So Why Netball?
Netball helps the body and mind keep active. She says "ONC are my new family".
Titbits:
Liz is very passionate about the sport and is loving life at ONC. She loves training and keeping active and admits she can't sit still. Liz also enjoys running and training, and is very competitive!