Laura McManus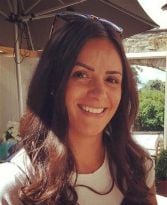 Laura McManus - WD / C / WA
Netball History:
Laura played netball at primary school and has had a soft spot for it ever since. Despite watching it whenever she could, she had a long break before reconnecting to it when she joined ONC in 2015. Since then she has had another break, this time was on maternity with her second child. She's now returned to netball with a vengeance!
So, why netball?
Laura says "netball is my escape from the madness of being a mum and I couldn't think of a better way to spend my Thursday evenings and Saturdays. Netball for me is fun, energetic and so enjoyable. The Olveston girls are so welcoming and I couldn't ask for a better bunch of ladies to play with. Their encouragement, enthusiasm, sense of humour and positivity is infectious. They are so much fun and help me keep my sanity!".
Titbits:
Laura is only 5ft 1, but says "never underestimate a shorty". The club can confirm that what she says is certainly true where netball is concerned!