Chloe Edwards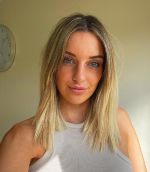 Chloe Edwards - GD / GK / WD
Netball history:
Chloe played netball during school and really enjoyed it. She loved playing defence positions such as GK and GD as she was always one of the tallest girls on the team. After leaving school and a break from netball she regained her love when she temporarily moved to Cornwall, joining a club playing as a GS and GA just for a change! Moving back to Bristol she joined Olveston and is enjoying playing, and being coached as, a defender. Since joining Olveston Chloe's confidence has grown massively due to the supportiveness and encouragement from all the team.
So why netball:
Chloe loves sport and staying active. Netball is great for keeping me fit and also with great coaching is always trying to improve and try new techniques.
Titbits:

Chloe joined Olveston Netball Club in 2021 after a succession of lockdowns. As well as the active bit, she loves the social side too, including the post training and match sessions in the pub!